The creation of visual characters for Kaptara actually began long before an artist was ever consulted. The way a character looks begins in the mind of the storyteller, sometimes before they even put pen to paper. The character created within the mind's eye of the writer is the visual foundation the artist builds upon. Everything from the basics such as age, ethnicity, and distinguishing features, to the specifics such as hair and eye colors, height, weight, and body shape, which are all details CG and other animation filmmakers have an exacting control over—details much more difficult to control when casting on-screen actors instead. For Kaptara, the story writers had very specific ideas for the "look" of each of their characters and they spent long hours discussing these ideas with the director of animation, who shared his input and helped refine these ideas before he got to work turning these concepts into actual digital characters.
The second stage of creating our visual characters is called "modeling," and has two specific steps. First, our artist uses the animation program Maya to create rough models of each of the characters. Then the rough model is imported into ZBrush for refinement. ZBrush is a digital sculpting system that works literally like digital clay, allowing our artist to further sculpt and define the features of the CG characters.
When the artist is happy with the model for a particular character, the model is shown to our writer/director for approval. If a character receives a gold star, he then moves into the third stage of creation. At this point, the character is imported into the program Mari for texturing. Mari is a texture-painting program that offers the capability of literally imprinting a 2D image onto the model's surface and allows our artist to make each character incredibly detailed.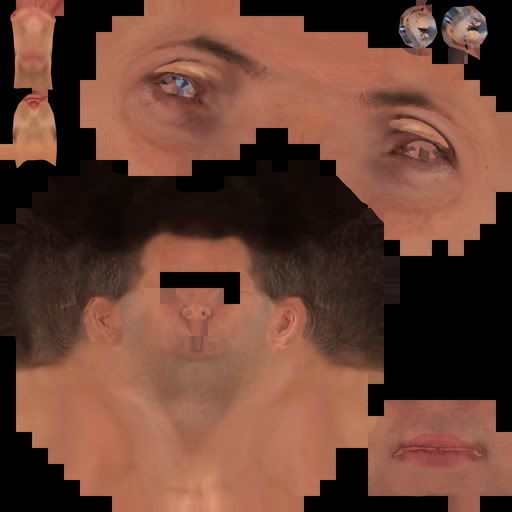 Sample Head Texture
This now sculpted and painted character is then moved back into Maya to receive his bones, skin weights—which ensure the skin moves the way it should on its new bones—and shape blends, all of which make the character movable in a realistic, fluid manner. Once rigged for movement, our (obviously) spectacular model is ready to receive his hair, clothing, and other accessories such as tattoos, jewelry, shoes, and (if he's lucky) maybe even a weapon. These accessories sound like a lot of fun (and they are) but they require an intense amount of fine detail work and a keen eye. For instance, realistic hair requires a technique known as "alpha," which creates gradually decreasing opacity, and clothes need to react based on the laws of gravity. 
Each of these steps takes endless patience and hours of work… for each character. But the end result will be a film full of beautiful, life-like characters, each existing in, and reacting to, their environment in the most natural way achievable.